1.Specimen Processing

The Laboratory Data Management System (LDMS) is used to manage all NIH HIV/AIDS research networks' specimens. All specimens will have their own ID.

The sample will be processed as instructed in the protocol. For example: blood will be separated to the derivatives such as Dry blood spot, serum, plasma and PBMC.
The specimen processing especially viable PBMC, the cell viability and cell yields must be in the acceptable range. Proficiency testing for PDMC cryopreservation from Immunology Quality Assessment Center: IQA (Duke Human Vaccine Institute ) has been done every 3 months to certify the PBMC processor.
---
2. Specimen Storage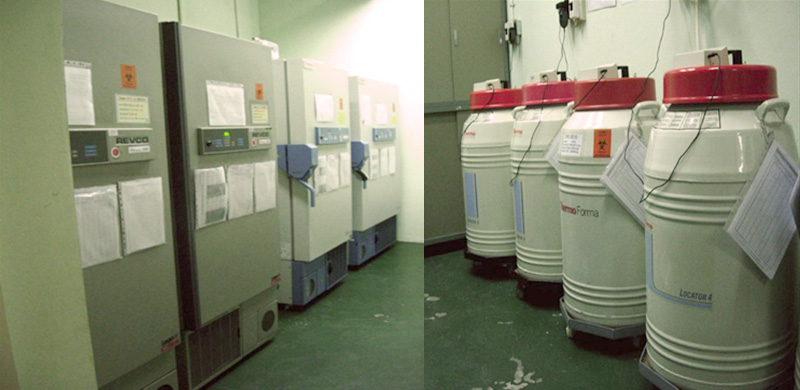 The processed specimens will be kept in the strictly controlled conditions for their quality. There are several storage conditions for specimens storage in SPU: 20 °C refrigerator, 4 °C refrigerator, -20° C freezers, -70° C freezers and Liquid Nitrogen (LN2) tanks (-196°C), especially LN2 tanks which have been used for long term viable PBMC storage. The location of the specimens was controlled by LDMS. The refrigerator and freezers are monitored twenty-four hours by Data logger and Auto dialer. It will alert the staff when the freezer temperature is out of the assigned range. In case of freezer malfunctions, the specimens will be moved to the backup freezer within 10 minutes. In addition, the emergency power will be served from the backup generator in case of power failure.

---
3. Specimen Shipping

The specimens will be shipped to the other laboratories per the protocol requirement; both domestic laboratories and international laboratories for testing or long term storage at the Central Repository. To ensure that the correct specimens are sent to the destination lab, they will be controlled by LDMS.
The staff who can conduct the international air transport shipment must be trained and pass the exam of IATA regulations and retraining every two years.
The specimens will be sent to the other laboratories, both domestic and international laboratory. There are several shipping condition such as ambient, frozen by dry ice and including frozen by vapor phase liquid nitrogen in dry shipper.
The specimen will be sent to the domestic laboratories such as Clinical Laboratory (RIHES) and  PHPT Laboratory, Siriraj Laboratory. The specimens also ship to the international laboratories such as Biomedical Research Institute   (USA) and Duke Human Vaccine Institute (USA).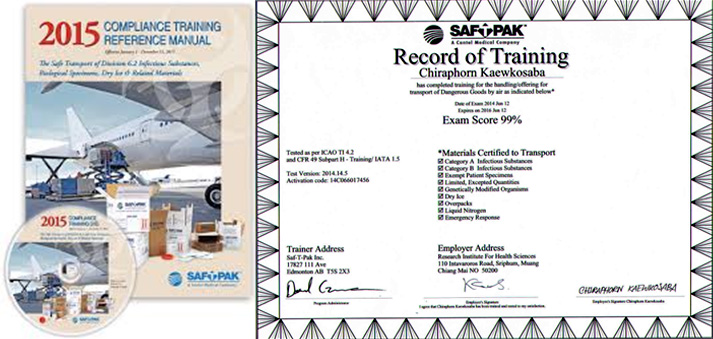 ---
Work Flow
The participants' specimens collected at the study clinic will be sent to Clinical Laboratory and SPU; specimens for safety monitoring will be sent directly to Clinical Laboratory separated from the Research specimens which will be sent to SPU for processing, storage and shipping to both domestic laboratories and international laboratories per protocol requirement.