Mission
---
Specimen Processing Unit is the one in the Core Competency Unit in RIHES which provides support for the Clinical Trial/ Clinical Research in several NIH HIV/AIDS research networks (i.e. ACTG, IMPAACT, HPTN and MTN), and also pharmaceutical company. The unit conducts a management of specimens collected per protocol; this includes specimen processing, storage and shipping to network laboratories.
---
The staffs have been trained and certified for Good Clinical Practice (GCP), Good Clinical Laboratory Practice (GCLP), Human Subject Protection (HSP) and International Air Transport Association (IATA) Regulations. Retraining has been conducted to keep the certificates updated.
---
Quality Policy, the intention of the unit is to improve the quality of work based on the DIADS Guidelines for Good Clinical Laboratory Practice standard, knowledge of Biomedical Sciences and Continuous Quality Improvement.
---
The Quality objectives of the unit which conduct a management of specimens are as follows.
Conducting the specimen processing per protocol requirement based on standard quality.
Conducting the specimen storage in proper conditions with 24 hours controlled temperature.
Conducting the specimen shipping to both domestic laboratories and International laboratories with 0% of specimens' deviation and less than 5% of document deviation.
Improve the productivity by using the Continuous Quality Improvement.
The staffs have been retrained to keep the quality and standard of work.
Create awareness in team work
---
Awards Received
HIV Prevention Trials Network (HPTN) delivered Outstanding Performance Awards to Clinical Research Sites (CRS) in 2009 – 2011. RIHES Laboratory, Clinical Laboratory (CL) and Specimen Processing Unit (SPU), received Best Laboratory Performance Award all 3 years.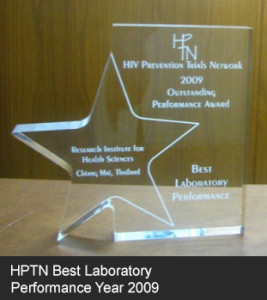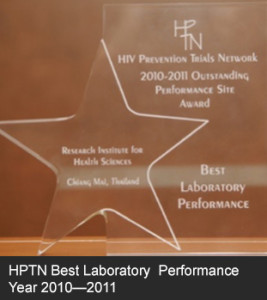 RIHES joined Microbicide Trials Network (MTN) as a Prevention Clinical Research Site (CRS) in 2014 with first protocol, MTN-017. The network awarded Outstanding Laboratory Performance in MTN-017 to RIHES in 2015.